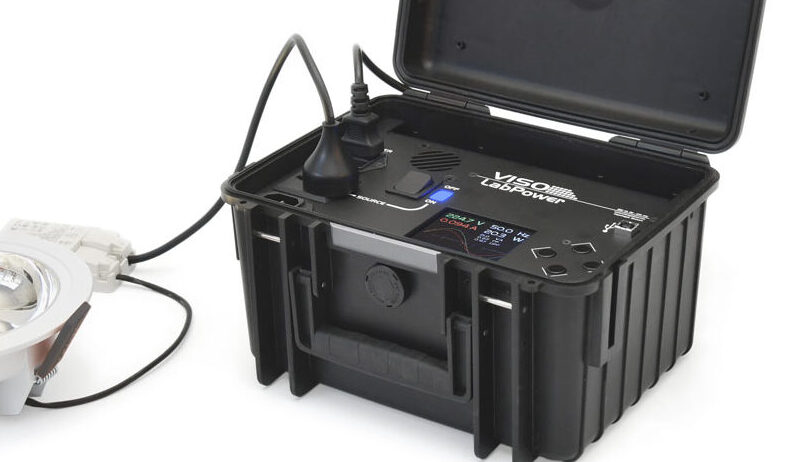 Labpower is a combined AC power supply and power analyzer – dedikated to work with all Viso Light Measurement systems.
AC mains feed is not always stable and does not always stay at the rated voltage and frequency. To comply with measurement standards (such as IES LM-79 and CIE S 025), your devices must be tested under rated conditions with specific tolerances.
LabPower will provide a pure sine wave feed to your light source while maintaining the voltage and frequency conditions.
LabPower is a dedicated Viso 250 W AC power supply and power analyzer

Full integration with any Viso light measurement system

Complies with EN13032/CIE and S 025/LM79

Optional remote voltage sensing for optimal accuracy
Latest light measurement news
<!—-><!—->
<!—->
<!—->
<!—->
<!—-><!—->
<!—->
<!—->
<!—->
Viso Systems is introducing a standard software feature that will help you all the way if you want to know how your light sources affects the human circadian system. Our […]
<!—-><!—->
<!—->
<!—->
<!—->
<!—-><!—->
<!—->
<!—->
<!—->
Who wants flickering light? – the French CSTB and Cluster Lumière do! For Viso Systems, this is great opportunity to demo the one-of-a-kind "Labarazzi" flicker generator. Thank you to Cluster […]
<!—-><!—->
<!—->
<!—->
<!—->
<!—-><!—->
<!—->
<!—->
<!—->
We are launching the ultimate 250 W AC combined power supply and power analyzer for all Viso measurement systems. Your AC mains power is not always stable and does not […]
Shortcuts to our most popular solutions
The LabFlicker instrument records all contemporary TLAs (temporal light artifacts): Flicker and stroboscopic effects including SVM and PstLM. LabFlicker connects to all Viso systems
The new "LabSensor UV-VIS" measures both UV light and visual light simultaneously. The new sensor works with the LabSpion and BaseSpion goniometer solutions.
Our most versatile goniometer system. Measure light sources up to 1,5 m (2,0 with extended tower) and 25 kg. Measure visual light with LabSpion VIS and both UV light and Visual light with LabSpion UV-VIS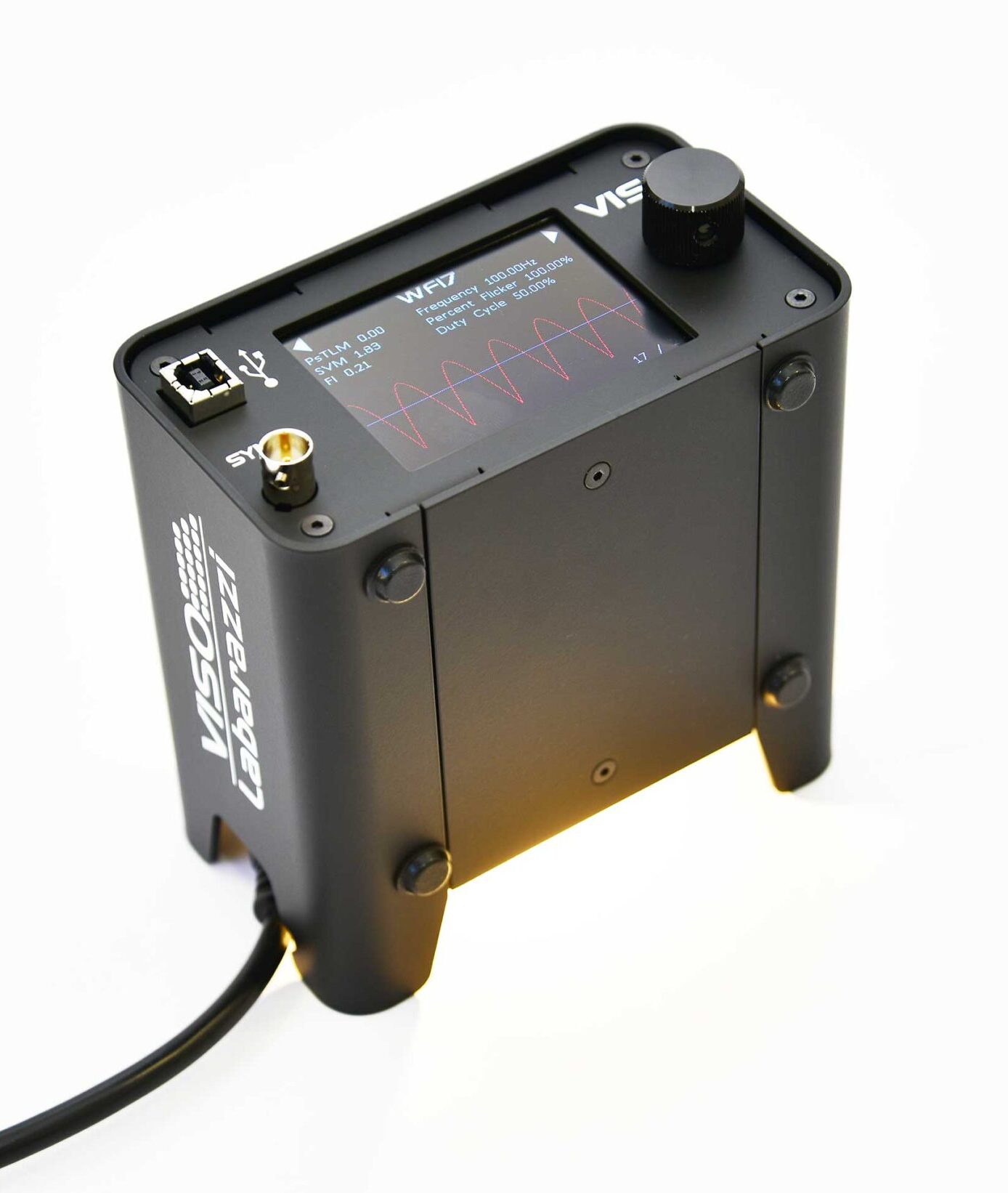 The Labarazzi® TLA generator is your tool to generate flickering light for test and demonstration.
Use the preset flicker signals or design your own signals. Test your flicker meter or your video camera.
Use Labarazzi flicker generator in quality tests, lighting education and in research projects
Demonstration of flickering light – in education and sales

Temporal Light Artifact research

Test of digital cameras and video cameras for TLA interference

Flicker tester calibration
Design your own, customized flicker signal. Choose your waveform (square, sawtooth, triangle, sine and cosine) and add frequency, modulation depth and duty cycle. Then watch the result with the built-in LED 3000 K (CRI 80) light source.
Portable light measurement unit
The smallest Viso measurement system, the award-winning " LightSpion", makes advanced light measurements accessible to almost anyone. Furthermore, the portable system can be taken anywhere – even on flights.
Simple, yet advanced: The LightSpion measures all the spectral qualities you dream of and light distribution in up to 8 c-planes. In addition, it automatically compensates for ambient light. Thus, it is possible to measure outside the laboratory with reasonable precision.
The LightSpion uses the same advanced software as other Viso systems. With the user-friendly Light Inspector software, you will be able to analyze, correct and communicate your results efficiently and competently.
Follow interesting news from the world of light measurement