Meet Viso Systems
Trade show and event calendar
30 Jan – 02 Feb 2024, ISE 2024, Fira Barcelona, Spain.

19 Mar – 20 Mar 2024, LEDucation 2024, New York, USA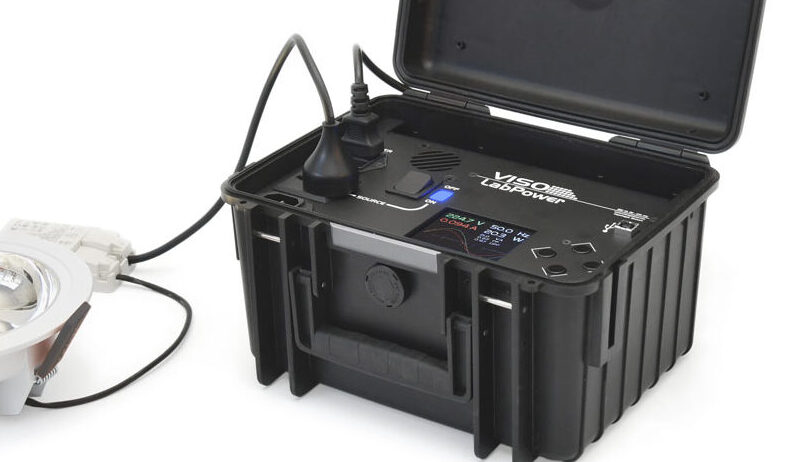 Labpower is a combined AC power supply and power analyzer – dedikated to work with all Viso Light Measurement systems.
AC mains feed is not always stable and does not always stay at the rated voltage and frequency. To comply with measurement standards (such as IES LM-79 and CIE S 025), your devices must be tested under rated conditions with specific tolerances.
LabPower will provide a pure sine wave feed to your light source while maintaining the voltage and frequency conditions.
LabPower is a dedicated Viso 250 W AC power supply and power analyzer

Full integration with any Viso light measurement system

Complies with EN13032/CIE and S 025/LM79

Optional remote voltage sensing for optimal accuracy
Latest light measurement news
<!—-><!—->
<!—->
<!—->
<!—->
<!—-><!—->
<!—->
<!—->
<!—->
It goes without saying that a light designed to be mounted on a wingtip or a fighter jet must be among the most rugged in the world, with very specific […]
<!—-><!—->
<!—->
<!—->
<!—->
<!—-><!—->
<!—->
<!—->
<!—->
The Hong Kong International Lighting Fair is one of the busiest gatherings for lighting professionals from around the world. The pandemic halted this important event, but now in 2023, Viso […]
<!—-><!—->
<!—->
<!—->
<!—->
<!—-><!—->
<!—->
<!—->
<!—->
Enjoy working with your data directly in Microsoft Excel. Viso Systems has introduced (beta version 6.97) a standard software feature that will allow you to extract measurement data directly to […]
Portable light measurement unit
The smallest Viso measurement system, the award-winning " LightSpion", makes advanced light measurements accessible to almost anyone. Furthermore, the portable system can be taken anywhere – even on flights.
Simple, yet advanced: The LightSpion measures all the spectral qualities you dream of and light distribution in up to 8 c-planes. In addition, it automatically compensates for ambient light. Thus, it is possible to measure outside the laboratory with reasonable precision.
The LightSpion uses the same advanced software as other Viso systems. With the user-friendly Light Inspector software, you will be able to analyze, correct and communicate your results efficiently and competently.
Design your own, customized flicker signal. Choose your waveform (square, sawtooth, triangle, sine and cosine) and add frequency, modulation depth and duty cycle. Then watch the result with the built-in LED 3000 K (CRI 80) light source.
Shortcuts to our most popular solutions
The LabFlicker instrument records all contemporary TLAs (temporal light artifacts): Flicker and stroboscopic effects including SVM and PstLM. LabFlicker connects to all Viso systems
This medium-sized fully automatic light measurement system will fit on a countertop. It measures light sources up to 54 cm (21′) and 9 kg. Measure visual light with the VIS version and or combine with UV in the UV-VIS model.
Our most versatile goniometer system. Measure light sources up to 1,5 m (2,0 with extended tower) and 25/45 kg. Measure visual light with LabSpion VIS and both UV light and Visual light with LabSpion UV-VIS
Follow interesting news from the world of light measurement