Combined AC and DC power analyzer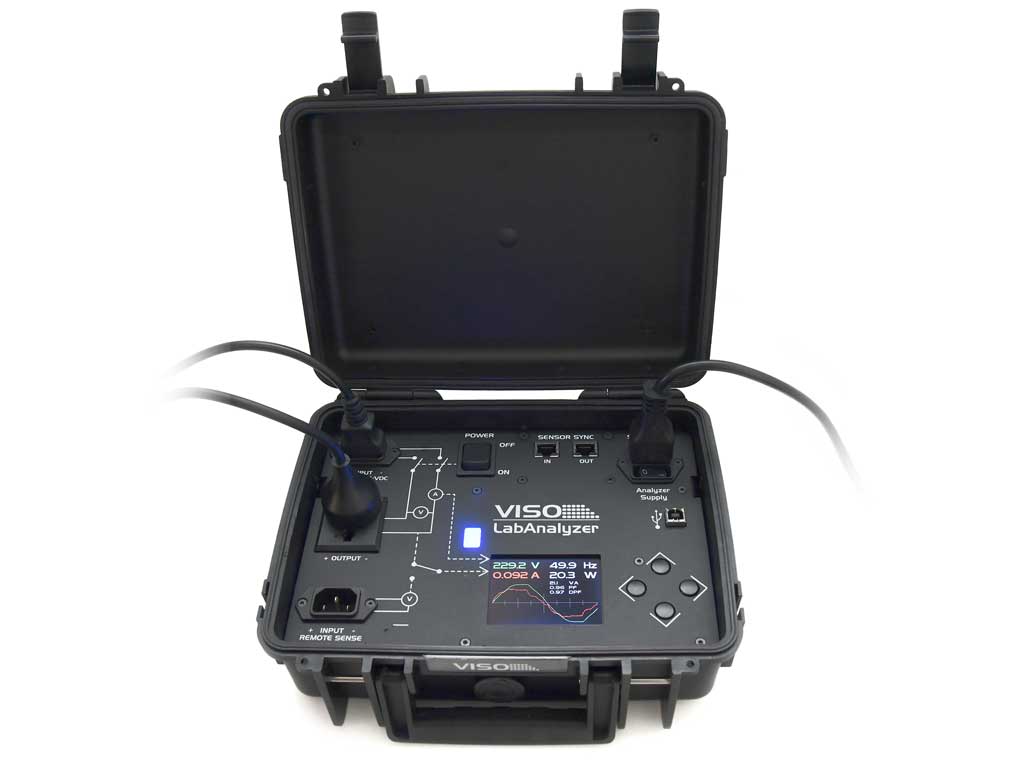 Viso LabAnalyzer is an advanced AC and DC power analyzer that complies with light measurements standards (IES LM-79 and CIE S 025). LabPower fully integrates with your Viso light measurement system and software, and facilitates remote sensing (measuring voltage directly at the light source terminals)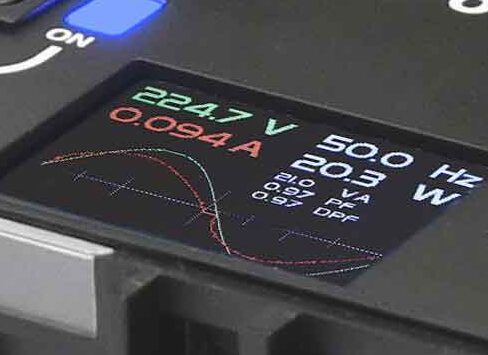 Revolutionary: Measure pulsed light sources
One of the two LabAnalyzer models makes it possible for the first time to perform a full light measurement on a strobe lamp – while it is strobing.
This is achieved by synchronizing a Viso sensor with the current pulses measured by the LabAnalyzer. This allows accurate measurements to be made of a continuously flashing light source.
The system even measures the details of the flash waveform, peak voltage, amperes and intensity, period length, number of flashes per period, flash lengths and interval lengths, etc.
This is done by synchronizing the integration time of the sensor with the current readings, which is a new, revolutionary system. Never before has it been so easy to measure strobe lights.
Watch the video on measuring flashing light sources.
Simply select the LabAnalyzer model without the synchronization option.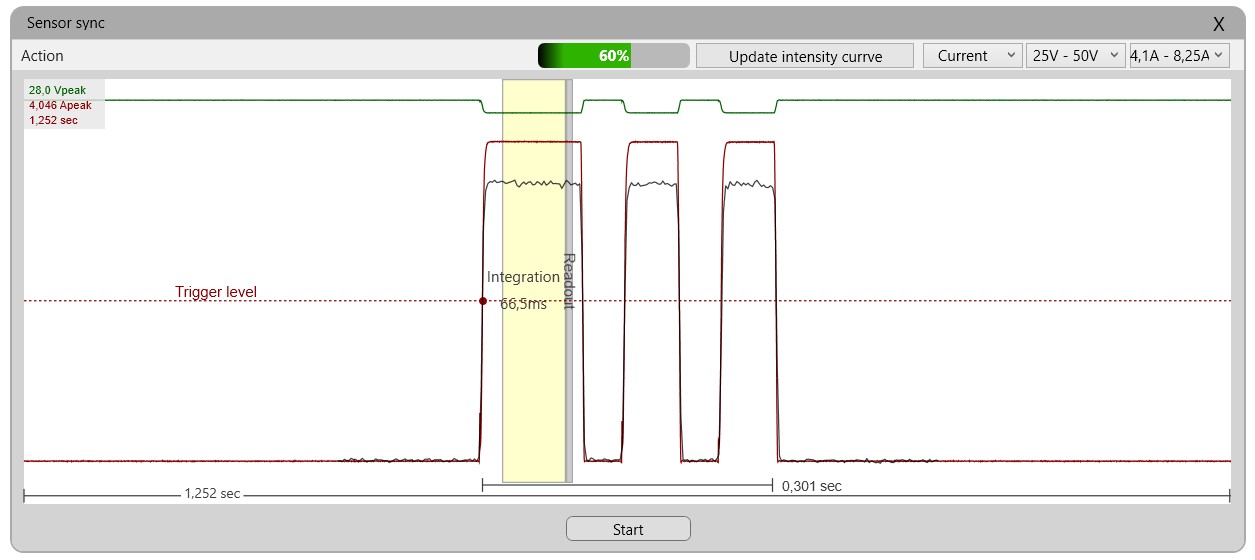 Connect to any Viso light measurement system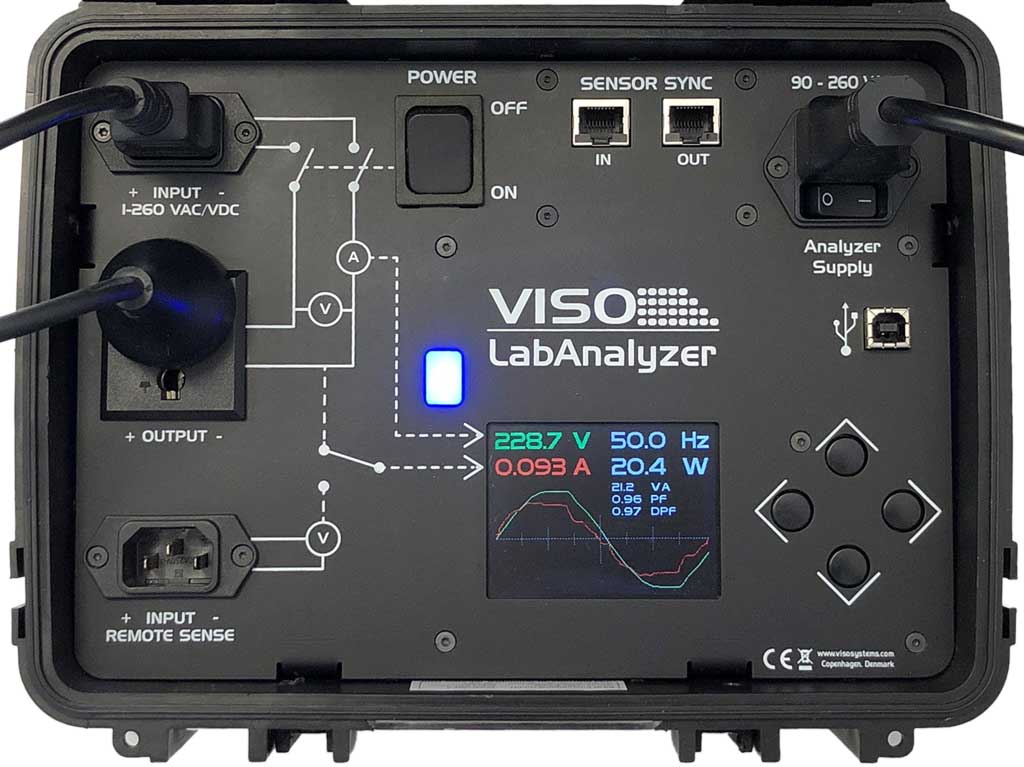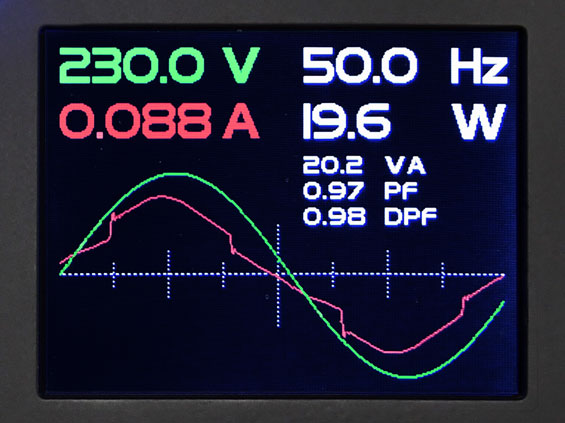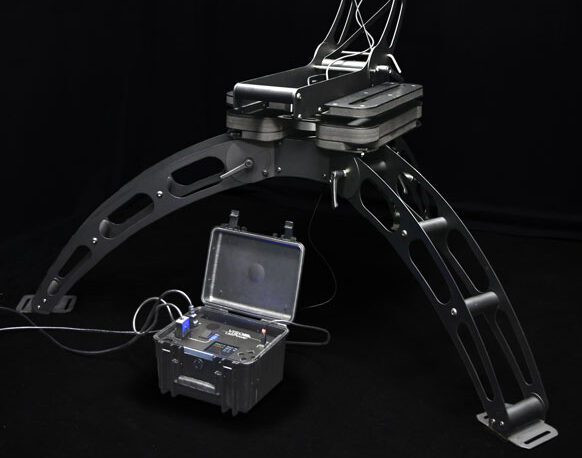 Dedicated Viso AC/DC power analyzer
Full integration with any Viso light measurement system
Revolutionary sensor sync version: measure strobing light sources as easily as other light sources
Complies with CIE S 025/ IES LM-79 requirements
Versatile measurement range (up to 100 kHz, 2-270V AC/DC, up to around 2000 W)
Real-time readout on built-in display
Remote sensing feature for optimal accuracy
LabAnalyzer Specifications
Data out
Voltage
Current
Active power and apparent power
THD harmonics
Displacement factor (AC)
Power factor (AC)
Sync version: Flash period details
Accuracy
Voltage 0.2% of reading + 0.2% of range
Current 0.3% of reading + 0.3% of range
AC/DC Voltage peak range 2 – 270 V
AC current peak range 3 mA – 16.5 A
AC power range 0.05-1700W @240VAC / 0.05-850W @120VAC
Physical data
Peli case 11 cm (H) x 27 cm (W) x 18 cm (H)
Weight: Device 2 kg + cables
Mains cable
USB Cable
Remote Sensing cable
Power in
Maximum Input voltage
AC: 270 VAC 50/60 Hz
DC: 380VPower max. 300 W
Maximum input Current
14A peak and 7A RMS