The LabFlicker is a semi-handheld flicker tester for all common light sources. All relevant flicker graphics and metrics – including SVM and PstLM – are displayed.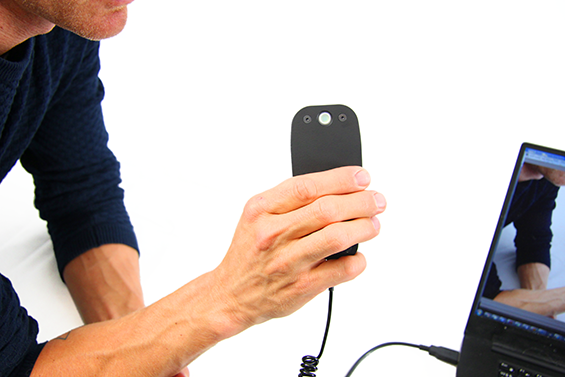 It connects directly to the Light Inspector software giving you live preview of your flicker signal. The LabFlicker instrument can be used with any PC – with or without a Viso goniospectrometer. Hence, the LabFlicker instrument and the Viso Light Inspector software on your PC constitute a portable and precise flicker measurement solution. Raw flicker data can be downloaded for more thorough investigations. As a result, LabFlicker is ideal for laboratories that need to comply with the EU Ecodesign directive or US Energy Star and JA8/10 requirements ( Bulbs / Luminaires).
The smart signal processing algorithm frames and calculates your flicker data in real-time. The LabFlicker can be used as a stand-alone flicker tester but gets more powerful when used together with any Viso goniometer. Because all flicker data can be integrated into light measurement files, the complete photometric data set can be exported into one complete report. This eliminates the complicated hassle of combining multiple systems together in order to create a report.
Flicker tester comparison
Ideal for measurements of the new flicker metrics: PstLM and SVM
One of the highest sampling rates in the market to improve accuracy
The instrument uses the high capacity of your PC for advanced live display, and fast data handling
Seamless integration of output into other Viso light measurements
Also works as a stand-alone device for in-situ measurements
Full export of raw data
Generate flicker reports – for internal purposes or marketing.
Flicker Tester Specifications
Measurement Results
SVM, PstLM
Percent Flicker
Flicker index
Frequency
JA8/10 & ASSIST Mp
Graphics
Full sample modulation graph
Single period graph
FFT – frequency domain graph
Live view
Specifications
Dimensions: L115 x W53 x H13 mm
Weight: 155 g
Frequency Bandwidth: 0 – 2000 Hz
Sensor Range: 50 – 11,000 lux/
0,5 cd @ 0.1 m to 1,100,000 cd @ 10 m
(low limit updated 2023)


Sampling and setup
Sensor Analog to Digital sample rate: 640,000 sample/s
Software working sample rate: 40,000 samples/s (SVM/PstLM 20/10 ksamples/s)
Connection: Micro USB, 5 m cable
Flicker for LED and OLED MLS:
Pst LM ≤ 1,0 at full-load

Stroboscopic effect for LED and OLED MLS:
SVM ≤ 0,4 at full-load
(except for HID with Φuse > 4 klm and for light sources intended for use in outdoor applications, industrial applications or other applications where lighting standards allow a CRI< 80)
DENAN Appendix 8 and J60598-1(H26): JIS C 8105-1:2010 – Amd. 1 (2012): This document addresses flicker detection in these terms: SSL products are deemed not to create a sensation that the light output is flickering if: the lighting fixture has a cyclic frequency of 100 Hz or more with no output failure (5% or less o the peak value of light output) or a cyclic frequency of 500 Hz or more.
Title 24 (JA8), also known as the California Building Standards Code, states the energy efficiency requirements for residential and nonresidential buildings. Unlike Title 20, Title 24 is not required to sell product in California, but is however required for new construction projects.The Appliance Efficiency Program (for household lamps), or Title 20, is a requirement to sell in California.
California's requirements include the test method "Joint Appendix 10" (JA10) thats evaluate flicker at multiple frequencies up to 400 Hz.
Title 24 requires high efficacy sources to be "low flicker operation", which means that the LED product will have less than 30% flicker at frequencies below 200 Hz at 100% and 20% output. Title 20, which also requires "low flicker operation", will cover LED lamps, requiring that lamps be tested after being paired with controls.
Several non-mandatory quality programs exist: IEEE 1789, EPA's ENERGY STAR program, and UL Marketing Claim Verification Verified Program just to mention a few.