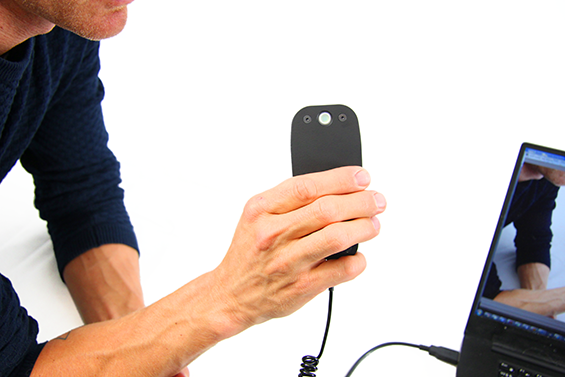 The LabFlicker connects directly to the Light Inspector software giving you live preview of your flicker signal. The LabFlicker instrument can be used with any PC – with or without a Viso goniospectrometer. The LabFlicker instrument and the Viso Light Inspector software on your PC constitute a portable and precise flicker measurement solution. All relevant flicker graphics and metrics – including SVM and PstLM – are displayed. Raw flicker data can be downloaded for more thorough investigations. Hence, LabFlicker is ideal for laboratories that need to comply with the EU Ecodesign directive or US Energy Star requirement.
The smart signal processing algorithm frames and calculates your flicker data in real-time. The LabFlicker can be used as a stand-alone device but gets more powerful when used together with any Viso product, as all photometric data can be seamlessly exported into one complete report. This eliminates the complicated hassle of combining multiple systems together in order to create a report.
Ideal for measurements of the new flicker metrics: PstLM and SVM
One of the highest sampling rates in the market to improve accuracy
The instrument uses the high capacity of your PC for advanced live display, and fast data handling
Seamless integration of output into other Viso light measurements
Also works as a stand-alone device for in-situ measurements
Full export of raw data
Generate flicker reports – for internal purposes or marketing.
LabFlicker Specifications
Measurement Results
SVM, PstLM
Percent Flicker
Flicker index
Frequency
JA8/10 & ASSIST Mp
Graphics
Full sample modulation graph
Single period graph
FFT – frequency domain graph
Live view
Specifications
Dimensions: L115 x W53 x H13 mm
Weight: 155 g
Frequency Bandwidth: 0 – 2000 Hz
Sensor Range: 1,200 – 11,000 lux/
12 cd @ 0.1 m to 1,100,000 cd @ 10 m
Sampling and setup
Sensor Analog to Digital sample rate: 640,000 sample/s
Software working sample rate: 40,000 samples/s (SVM/PstLM 20/10 ksamples/s)
Connection: Micro USB, 5 m cable