Viso light measurement systems have built in power analyzers that will give all power details: Wattage, PF, DPF etc.
Some clients prefer an external or more advanced power analyzer.
If you want full integration with the Viso "Light Inspector" software you may use these compatible power analyzers.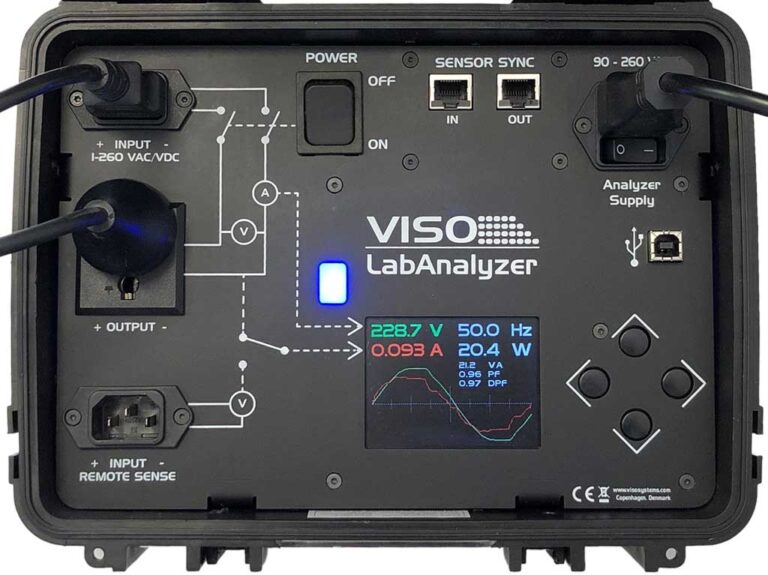 Viso LabAnalyzer provides a precise power anaysis (compliant with IES LM79 and CIE S025).
With the optional sensor sync module, LabAnalyzer also makes it possible to measure storbing light source.
Watch this video: https://youtu.be/HkSqjjkF20g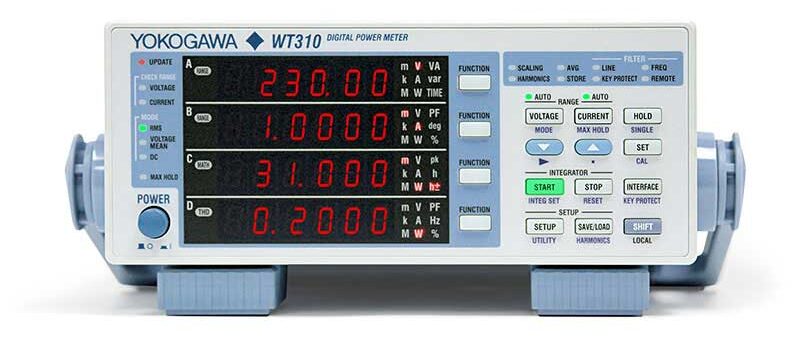 Replaced by the WT300E series . Digital power analyzer provides extremely low current measurement capability down to 50 micro-Amps, and a maximum of up to 26 Amps RMS. This instrument is ideal for engineers performing stand-by power measurements, Energy Star®, SPECpower and IEC62301 / EN50564 testing, battery charger and other low-level power measurements.
GW Instek GPM-8310 is a digital power meter for single-phase (1P/2W) AC power measurement. Features include DC, 0.1Hz~100kHz test bandwidth, 16bits A/D, and 300 kHz sampling rate. It adopts 5" TFT LCD screen with a five-digit measurement display and provides 25 power measurement related parameters, and has a high-precision measurement capability.
EXTERNAL DC POWER SUPPLIES
EXTERNAL AC POWER SUPPLIES
An external power supply is especially handy if your mains supply is not very stabile. Further, some incandescent light sources are very sensible toward mains voltage fluctuations.

Viso light measurement systems all work fine with some external AC power supplies.
If you want integration with the Viso "Light Inspector" software you may use one of these compatible power supplies. For these type, Viso interfaces exist and settings are communicated automatically to the Viso software.
Full integration and compliance with IES LM79/ CIE S 025 is obtained with Viso LabPower
Fully integrated, programmable 250 W Power Supply 30 – 270 VAC RMS +/- 45 – 100 Hz Sinusoidal.
Check out this standard accessory here
See the product leaflet.

AC Power Source, APS-7000E, 1000 VA, 310 Vrms
4.2 A, 45-500 HZ, LAN, USB
Existing Viso software interface

Most Viso accessories connect to your PC with USB cables. With a full range of accessories (such as LabFlicker, LabTemp and LabTarget) being close to your measurement system (LabSpion/BaseSpion) you might like to run all communication with both the light measurement system and all accessories through the same USB cable to your PC.
For this setup we recommend:
1. NEDIS USB Hub, 8 ports – QC3.0 – USB 3.2
– Mains Powered – USB Powered – 5 Gbps USB
2. USB 3.0 Active booster Extension cable – 20 m
– USB 3.0 and backward compatible
– Data transfer up to 5 Gb/s
– USB A male to USB A female
– Power supply included
3. USB 3.0 cable – USB-A male to USB Micro B male – 5 m
Data transfer up to 5 Gb/s