In this page, you will get feature tips that will help you make the most of your Viso light measurement equipment.
If you want get tips like these on a regular basis you may choose to receive news through the software: Click 'Help' -> 'News' and pick the kind of updates you prefer. You can change your settings any time. More than 85% of existing Viso clients prefer getting software news.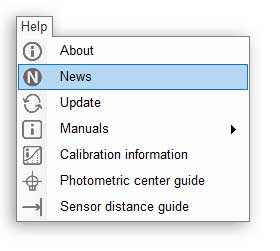 Software and functionality feature tips
<!—-><!—->
<!—->
<!—->
<!—->
<!—-><!—->
<!—->
<!—->
Black is not always black. Even if you paint all lighting laboratory surfaces black, there might still be some light bouncing from the walls and […]
Hungry for more tips and ideas?