In this page, you will get feature tips that will help you make the most of your Viso light measurement equipment.
If you want get tips like these on a regular basis you may choose to receive news through the software: Click 'Help' -> 'News' and pick the kind of updates you prefer. You can change your settings any time. More than 85% of existing Viso clients prefer getting software news.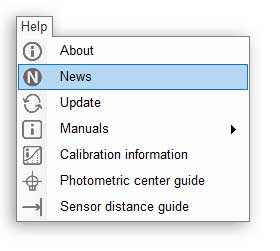 Software and functionality feature tips
<!—-><!—->
<!—->
<!—->
<!—->
<!—-><!—->
<!—->
<!—->
We finalized a game-changing system: For all we know, nobody else has systems that can measure strobe lamps while they are strobing! This feature is relevant for many clients in entertainment lighting and particularly in vehicle lighting, e.g. aviation position lights and car indicator lamps. The key lies in precisely […]
Hungry for more tips and ideas?