There are interesting news from Nichia: A dual purpose LED that offers quality light and germicidal benefits.
A strong peak at 405 nm means that this LED can deactivate bacterial pathogens while efficiently lighting a space. Emmitters typically provide 53 lumen (@ 75 mA, 6,2V, 4000 K, CRI>80) amounting to an efficiency of about 114 lm/W. This is not as impressive as other white LEDs. This LED, the NF2W585AR-P8, is based on a 405 nm violet pump and has a high peak around this wavelength. Opposed to ultraviolet (UV) radiation in the UV-C band (100–280 nm) violet light is harmless to human skin and eyes.
Which germs?
Nichia published test results performed at the Tokushima Prefectural Industrial Technology Center that indicate 1000 lx of radiation from nine of the LEDs at a distance of 40 cm deactivated 98.9% of Pseudomonas aeruginosa in five hours and 99.3% in 24 hours.
The new LED is designed to deactivate bacterial pathogens including pseudomonas, staph, and E. coli, while also providing visible white light. Hence, Nichia imagines that the LED can be used in continuous-disinfection applications, meaning that your next office light system could be running with it day in, day out.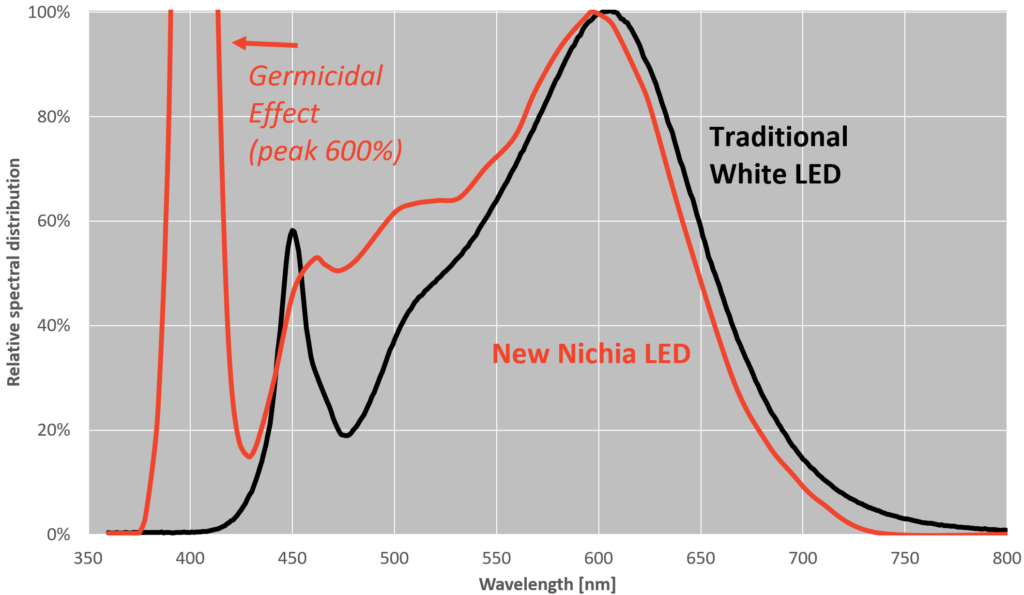 An important note is that the new LED will probably not be powerful enough to kill COVID-19. In announcing the new LED, Nichia made no claims about deactivation of the SARS-CoV-2 viral pathogen that causes COVID-19. Indeed, other manufacturers of violet or UV-A-band (315–400 nm) disinfection lighting have also stayed away from SARS-CoV-2 claims. The fact is that the violet energy likely would deactivate such a viral pathogen, but would not do so quickly enough to prevent airborne infections. But the violet energy could probably help fighting contaminations in health care facilities.
No circadian stimulus
The NF2W585AR-P8 LED datasheet can be downloaded from here. The company supplied an SPD diagram (posted nearby) showing the strong violet peak as opposed to the typical blue peak in a phosphor-converted white LED. Relatively speaking, the violet intensity is more than 4 times stronger than the blue intensity but in a region with diminished human eye sensitivity. And the peak is well below the circadian stimulus band, so it should not impact circadian health. You can also observe the relatively uniform spectral distribution above 430 nm.
Nichia is not the first to use a violet pump in a white LED. Seoul Semiconductor has promoted its SunLike product for several years and touted a uniform SPD. But Nichia is stressing the dual functionality of its product.
Measuring spectral distributions
The heart of every Viso light measurement unit you will find a spectrometer sensor. In fact, all outputs are based radiometric data – i.e. spectral power distributions in all directions. A standard VIS solution will provide detailed spectral data in the 360-830 nm range. Viso's new UV-VIS solutions provide data in the range from 200 to 850 nm, which includes far UV as well as near infrared.
Read more in Nichia's own press release here.